The 4th of July is a beloved American holiday, synonymous with camping trips, lake days, and spectacular fireworks displays. Whether you're planning ahead or looking for inspiration any time of the year, we've curated a collection of timeless and easy 4th of July hairstyles and updos that will keep you looking cute and put-together while keeping your hair under control. Say goodbye to unwanted knots and hair blowing in your face as you prepare for a stylish celebration!
The Bubble Braid: An Effortlessly Chic Choice
Step 1: Start with a traditional ponytail
Step 2: Add an elastic every couple of inches until you reach the bottom strands of the pony.
Step 3: Then lightly tug on the individual sections to give them more texture and fullness.
Step 4: Add variation by applying to multiple sections of the hair or a smaller section for a half-up, half-down look.
This style is so simple, but will keep your hair in perfect condition no matter what your day brings!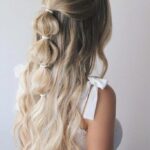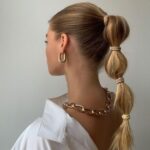 Space Buns: Adding Fun to Your Festive Look
Space buns add a unique, fun twist to any outfit!
Step 1: Start by splitting the hair into two sections right down the middle, give each section a little tease.
Step 2: Twist them into buns near the top of your head. The buns can also be put at the nape of the neck for a more laid-back look.
Step 3: For a more festive look, try incorporating 4th of July-inspired scrunchies or ribbons around the buns.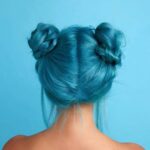 Dutch Braids: A Messy Twist on Tradition
The Dutch braid is a simple twist on the classic French braid style.
Step 1: Start by adding the new strands underneath the braid as opposed to above like a French braid. This creates a separation between the braid and the head.
Step 2: Give a little tug to each section to create a messy, full look.
Step 3: Try creating little buns at the end of the braids instead of just leaving the strands down for an added twist.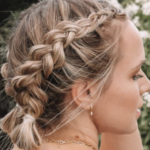 Bandana Updos: A Classic Touch for Your Hair
The bandana is a classic staple when it comes to the 4th of July, but any pattern of bandana can be used in these styles.
For a simple elevated look, try wrapping a bandana around your traditional messy bun, ponytail, or braid.
If you want to leave your hair down for the holiday weekend, try wrapping a bandana around the top section of your head. This keeps the sun off your scalp and allows you to rock the hair down look without it getting too messy.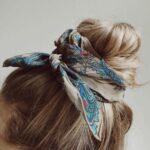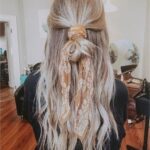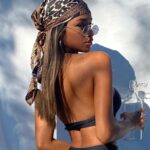 Half-Up Braid: Simple and Timeless Elegance
Lastly, we have the half-up braid! A style that is so simple yet so classic.
Step 1: Grab the top section of your hair and pull it to the back of your head to create a traditional braid until you get to the bottom of the strand, leaving the bottom half of your hair untouched.
Step 2: Pull out a few small sections of hair to frame your face and you're good to go!
Step 3: Jazz it up with a bandana, scrunchy, or a hat! This look will never go out of style and it's quick and easy to accomplish.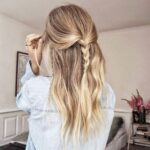 As you gear up for the 4th of July weekend, we hope you find inspiration in these timeless hairstyles. Try one, or try them all – each style has a unique charm that will keep you looking great year after year.
Want More Summer Hair Ideas? Contact Our Rapid City Beauty School
For more hairstyling inspiration and to explore our Rapid City cosmetology program and salon services, contact us today.