Hair loss is something most people hope to avoid as long as they can, but if you're struggling with it, you're not alone! We often think of older men when we think of hair loss, but unfortunately it affects men and women of all ages for a variety of different reasons.
Some of the many causes of hair loss (also known as alopecia) are chemotherapy, anesthesia,
scarring, diet, pregnancy or postpartum, inflammation and illness. All of these situations, along with autoimmune diseases, put significant stress on the body. This can put hair follicles into a resting state, causing hair to fall out more easily or stop growing altogether.
Traditional hair loss treatments are often expensive, dangerous, or just don't work! Those treatments include hair transplants, steroid injections, lasers, vitamins or a medication know as Minoxidil. Minoxidil was used in the 80s as a medication for high blood pressure, but is now marketed as a hair loss treatment. It might make your hair grow, but it also has unwanted side effects and is a blood thinner, making it dangerous for some people to use.
One of the newest hair loss treatments that we're proud to carry at The Salon Professional Academy in Rapid City, SD is Zenagen. Zenagen is made up of four main natural ingredients: Saw Palmetto, Red Clover, Aloe Leaf Juice Extract and Green Tea Leaf. These ingredients work together to target inflammation and slow down the production of DHT, a hormone responsible for most of the hair loss seen in men and women, while also promoting a healthy scalp and thicker, fuller hair.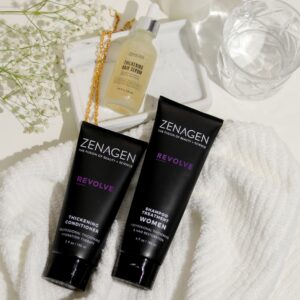 So you could continue to feel self-conscience about your hair loss, or you could do something about it! Stop by TSPA – Rapid City to learn more about Zenagen and pick up some of their products.