I bet you're wondering what microdermabrasion is, maybe you've heard of it in a recent magazine article or saw that your favorite celebrity swears by it, but what exactly is it?
Microdermabrasion (also known as microderm) is a painless, non-invasive, exfoliation treatment that uses either a crystal spray or diamond tips to polish dead skin cells from the skin's surface. At The Salon Professional Academy we use a crystal-free microdermabrasion which consists of a diamond-tip applicator instead of crystals. It produces the same result as the crystal microderm without the clean-up or expense of the crystals. This treatment works great to diminish sun damage, pigmentation, fine lines and wrinkles and enlarged pores.
We have three different types of microdermabrasion at TSPA, and I was lucky enough try each one multiple times to fully experience the benefits of the procedures and share my thoughts with you.

The three different types available at TSPA are dry microderm, wet microderm (hydradermabrasion) and the BT-Titan. Dry microdermabrasion is exactly what we just explained, it's the basic crystal-free microderm. Wet microderm, also known as hydradermabrasion, is very similar to the dry version except that it also expels a serum throughout the procedure. Different serums can be used to help with brightening, smoothing and hydrating. Lastly, we have the BT-Titan, which is a little different than the wet and dry microderm. It uses nano infusion technology and the use of a microneedling handpiece with a needle-free tip. The needle-free tip uses a single use sterile cartridge made of silicone or surgical steel pyramid-like microscopic nodules that don't penetrate into the dermis. It allows for similar results to microneedling without the downtime.
My first two treatments were done using the dry microderm and I'll be honest, I was a little scared. Exfoliating products always seem to leave my skin red and raw, so the thought of a machine doing the exfoliating made me a little apprehensive. I was shocked to find out that this procedure didn't hurt at all. I would describe the feeling as a cat licking your face. You can definitely feel the machine working it's magic, but there is no pain involved. When the procedure was done my skin didn't have any redness or irritation, I was able to immediately go about my day without worrying how my skin looked. After each of the dry microderm treatments, I had one or two blemishes make an appearance on my face. I wasn't concerned as I was told by the TSPA esthetician students that this was perfectly normal. The machine had pulled sebum to the surface of my skin leaving small blemishes behind, but thankfully the blemishes went away as quickly as they came. Aside from the impurities, I noticed that my skin tone started looking more even and my pores started to appear smaller. I was starting to like the look of my natural skin without adding any makeup.
For my third and fourth treatments, I had a wet microderm procedure followed by the BT-Titan, I repeated each of those again on my fifth and sixth treatment. Like the dry procedure, the wet microderm didn't hurt or cause any discomfort, in fact, it was even more enjoyable than the dry microderm. I left each time feeling clean, refreshed and moisturized. My fourth appointment with the BT-Titan wasn't as comfortable as the wet or dry microderm. I was able to carry on a conversation with the esthetician the whole time and never felt like I was in pain, but it just wasn't quite as enjoyable as my previous appointments. After the procedure I had some red marks on my forehead and cheeks where the machine had been used, and I felt like I had a mild sunburn for a few hours after. But just when you're thinking this might not be the procedure for you, think again! I noticed the biggest difference in my skin after this treatment. My face felt so soft, and I actually had people commenting on how soft and smooth my skin looked. After my fifth and sixth treatment I was really beginning to see the benefits of these treatments.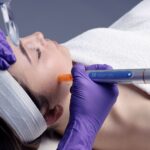 Now that I'm done with all six treatments, I plan to continue coming in once a month and rotating between the dry microderm, wet microderm and the BT-Titan. My skin feels softer and more moisturized than it ever has and I finally feel confident without much makeup. I would recommend these treatments for anyone that wants smaller pores, softer skin, and a more even complexion! Call The Salon Professional Academy in Rapid City to schedule your appointment today!