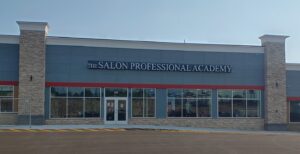 NEW LOCATION GRAND OPENING CELEBRATION
Thursday, November 18th
Ribbon-Cutting Ceremony – 11am  |  Swag Bags, Prizes, Tours, & Refreshments 6:30-8:30pm
The Salon Professional Academy (TSPA) is excited to be hosting a celebration of our school's new location in the Northgate Shopping Center located at 937 E. North Street in Rapid City!  We are inviting the community to come for a visit and to checkout the new state-of-the-art facility, expertly designed to support our modern approach to training future beauty and wellness professionals in exciting, sustainable careers.
On Thursday, Nov. 18th – the community is invited to join us for a ribbon cutting at 11am with our local economic development partner, Elevate Rapid City. Later in the evening, beginning at 6:30pm the celebration really begins with amazing swag bags at the door (while supplies last), silent auctions and charity fundraiser opportunities, refreshments, and guided tours for those who want to checkout the new training center or even learn more about the educational opportunities available at TSPA.
Being part of the greater Rapid City community is very important to the owners and leadership of TSPA.  Originally founded as Black Hills Beauty College in downtown Rapid City, the former school came under new ownership and was transformed to The Salon Professional Academy; a nationwide network of beauty and wellness training centers.  As the school grew, the owner Wendy Beaumont quickly recognized the need for a new location to continue to grow and provide industry-leading training for the students.  Wanting to reinvest in and support the Rapid City community, there was no question for Wendy that the school would remain a local business; finding a new home in a part of town undergoing incredible, positive change.  The new location nearly doubles the size of the previous school and provides a training environment that is similar to premium salons and spas; inspiring the students to strive for the very best opportunities in their respective career.  Additionally, the student clinic area that offers student-provided salon and spa services has been upgraded an expanded to serve the needs of the public.  The same premium brand products the students train with and that are used on guests are also available to the public in our retail area at great prices including REDKEN, Circadia, Tammy Taylor, & more.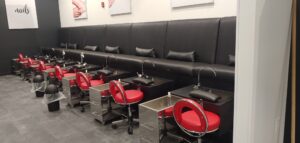 TSPA has a long tradition of being part of, and giving back to, the community.  As part of our grand opening celebration, we have selected two local charity organizations to support with fundraising and donation efforts: Front Porch Coalition and Good Samaritan Society-St. Martin Village.
Front Porch Coalition provides prevention, intervention, and postvention services to the community to work to prevent the incidence of suicide.  A representative will be on hand to provide information about their organization and ways to find support for you or a loved one in need. www.frontporchcoalition.org
Good Samaritan – St. Martin Village is dedicated  to providing compassionate care and offering a welcoming community with assisted living and independent living services.  www.good-sam.com/locations/st-martin-village
TSPA sincerely hopes you can join us in celebrating our new location, support some truly incredible community organizations, enjoy some great free prizes and refreshments, and learn more about how we support an inclusive environment for education and training in beauty and wellness careers.