Gel polish or acrylic nails? It seems to be a constant debate, but which one really takes the cake?
Let's start with acrylics, considering they've been around over a decade longer. Acrylics became popular in nail salons in the 1970's and are still one of the most time-consuming manicures you can get. They're made from a combination of a liquid monomer and a powder polymer forming a paste that is then bonded to the natural nail. The acrylic nail is cured with a free radical reaction when the peroxide in the powder is exposed to the reactive monomer in the liquid.
Acrylic nails add strength and length to the natural nail and help make the nails more even and uniform. Although strong, they aren't very flexible which means they likely won't peel off your nail easily, but they can also make it harder to do every day activities. They can last from 6 to 8 weeks as long as you're getting fills every 2 to 3 weeks. And contrary to popular belief they won't cause permanent damage as long as they're removed correctly by a professional. Regardless of how they're removed, it's recommended that you give your natural nails a break every 3 to 6 months.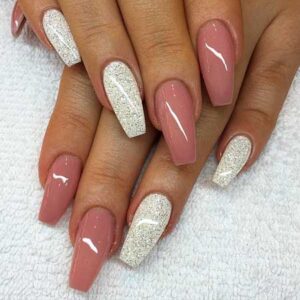 Gel polish made its first appearance in the 1980's but the concept wasn't really mastered until the 1990's when gel polish really started to pick up in popularity. Gel polish adds a strong coating to your natural nail without adding extra length, instead it's applied similarly to a traditional polish. Chemically speaking, gel nail polish isn't much different from acrylics, it's made from pre-mixed semi solid monomers and oligomers that are hardened to polymers when exposed to a UV light.
Gel polish isn't quite as strong as acrylic nails, but it is more flexible which could be better depending on your day-to-day activities. Getting a gel polish manicure is typically less expensive than acrylics, but more expensive than traditional polish. It can last up to 14 days without chipping and doesn't require any fills, but it should still be professionally removed to avoid damage.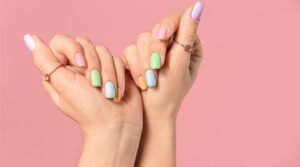 All in all, both gel polish and acrylic nails are great options! We don't feel like there's a clear winner since these two types of manicures have so many similarities and positive traits. It really just depends on your life style and the look you're wanting!
It's also worth noting that Gel polish and Acrylics are not your only options in the manicure game, in recent years other techniques have also become popular. We'll save the details for a different day, but if you're curious and still aren't sure if gel polish or acrylics are best for you, take the time to look at other options. Some of them include dip, poly gel and gel nails (I know what you're thinking, but yes this is actually different than gel polish.)
At The Salon Professional Academy – Rapid City, we offer both gel polish and acrylic manicure options and would love to help achieve your desired look!