A Cosmetology Degree is Your Path to a Better Future!
According to Forbes, America needs trade school graduates now. A career in the beauty industry could be your ticket to financial security!
Why?
Annual beauty industry spending in the US is $523 billion. The average American woman spends nearly a quarter of a million dollars on hair and make-up in her lifetime!
hat spending, which is recession resistant, is why the job outlook for cosmetologists, barbers, hair stylists, and estheticians is as strong as any other trade school field right now. The demand for graduates is so great that you can start working and earning income as soon as you complete a short trade school program in cosmetology!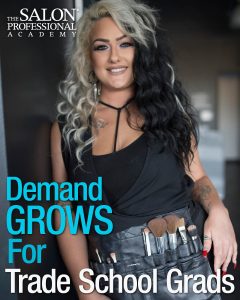 How can you cash in on this trend?
Investigate the different cosmetology-related skills you can develop. You can become a hairstylist, make-up artist,

skincare specialist

, and more.

Search for trade schools in your area or online to see what's available.

Talk to

admissions

representatives to figure out what program is right for you.
Enroll in a program at a trade or cosmetology school – they are short and affordable! 
An affordable trade school certificate can put you on the road to work in no time. If you want a career path with a stable financial future, consider enrolling in a cosmetology program! Start School From Your Home – temporary Online learning has begun. Book your virtual tour with Wendy or Admissions Director 605-342-0697